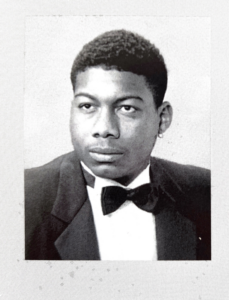 On behalf of the Carlisle family, we are saddened to learn of the passing of Jay Dee Draper III, class of 1995, and want to express our condolences to his family as they navigate this loss.
Draper was a member of the 1995 VIC Boys Basketball Championship Team, was named to the All-Conference Golf Team, was the recipient of the General Assembly Award, was a member of the Leadership Club, received the Scholar-Athlete Award, J. David Wilson Award, the Most Valuable Player for the golf team, and later became a key member of the Alumni Engagement Committee.
Below is a beautiful eulogy written by Chris Clark, former classmate, Carlisle graduate '99, and dear friend of Jay Dee.
"Jay Dee has undoubtedly left a positive and permanent mark on so many with whom he's interacted over the years. I'm just one individual lucky enough to have known him.
I first met Jay Dee as a kid learning to play golf at Lynwood Country Club. He was four years older than me and was a respected and good golfer when I took up the game. He, his father, my father, and I played quite a bit together when we were junior golfers. I still remember him congratulating me on the 18th hole when I won my first junior golf event, the Andrew Haley Memorial. It meant so much to me for someone of his stature to care enough to offer his support and encouragement.
Despite the age difference, we became and remained friends, mostly through golf. In fact, his enrollment at Carlisle, along with other friends (most notably Marty Stanley and Jason Holland), was reason enough for my family to enroll me at Carlisle in '94. Along with being a co-captain of the golf team, Jay Dee was an instrumental part of Carlisle's first state championship basketball team. That team is legendary among anyone who has followed Carlisle basketball. And, although Jay Dee was a senior star on campus, he never seemed to consider me as just a little freshman kid. Instead, he treated me as a friend, always taking time to hang out or chat in the hallways or athletic playing field/court. He was mature beyond his years, gracious, and kind.
As is the case for so many of my friends, we lost touch a bit after he graduated. Still, we occasionally made time to hang out and play golf or basketball whenever possible when he was in town.
I moved back to Martinsville in '08 and returned to Carlisle as a faculty member through '13. During those years, Jay Dee and I again were afforded many opportunities to pick up where we left off as friends. While it was nice to hang out and play some golf, it was during those years that I first started to witness first hand Jay Dee's impact on area youth. He selflessly used his knowledge and skills to help kids who didn't otherwise have the resources to learn and grow in the game of golf. While I can't put a definitive number on it, I'm confident there are many individuals for whom Jay Dee was integral to their athletic and academic achievements.
In '18, I joined the Board at Forest Park Country Club. We were in a very difficult spot and were in need of leadership in key areas of our club. In the fall of '19, I began to discuss with Jay Dee the position of a head golf professional. For all the attributes I've listed above, I was confident Jay Dee would be an ideal fit to not only help Forest Park navigate difficult times but also help to reinvigorate junior golf in Martinsville/Henry County. Throughout his tenure at Forest Park, Jay Dee worked diligently to increase interest and access to not only area youth but also minorities and low-income individuals. More than at any other point in our relationship, I was able to work with and spend time with Jay Dee. Although he was a talented golfer and fantastic instructor, he saw golf as just an avenue to help others. I was and still am inspired by his passion for improving the lives of those around him.
Jay Dee was as true and genuine of a friend as anyone could hope for. I can't remember a single conversation in recent years where he didn't first ask how my father was doing or how my kids were doing. I'll certainly miss teeing it up with Jay Dee, discussing an idea for a golf event, or just chatting about college basketball. But, what really epitomizes to me who Jay Day was were the last words he said to me from his hospital bed just a couple of days before his passing. "I love you, Pro." While I didn't know then that would be the last time we spoke, I am grateful to have been given that time with my friend."
Jay Dee impacted so many and will be deeply missed. His Carlisle family is thinking of all of his family and friends as they celebrate his remarkable life.