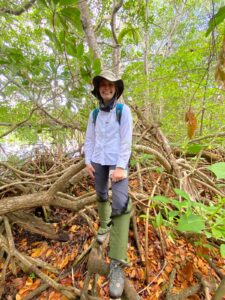 Olivia Aaron, class of 2020 and senior at Roanoke College, spent her summer conducting research for Mexico's Department of Sustainable Development. Her research consisted of studying biodiversity in the jungle and other environments. Jaguars and native plant species were the focus of her research within the jungles of Mexico. 
Aaron also worked as a research assistant for the Roanoke College Biology Department this summer. Under the guidance of her professor, she collected research on a threatened native flowing species. She also worked on many other projects in the Center for Environment at Roanoke. 
Aaron says, "These were amazing experiences, and I wouldn't have been able to pursue them without the help of Carlisle, which introduced me to my love for environmental science!"
We are so proud of Olivia and cannot wait to see what she does next! Your Carlisle family wishes you the best in your senior year!