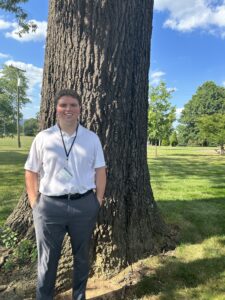 A member of our class of 2020 and Roanoke College Senior, Andrew Chitwood was recently named the student representative for the Virginia Rural Health Association, a non-profit advocacy organization supporting the health of rural VA. As a member of their board of directors, he serves as a fully active and voting member alongside medical/public health experts, including hospital administration, VA Department of Health Administration, and a former member of the VA General Assembly. Chitwood will serve as a board member for the next year and participate in monthly board and committee meetings as a member of the advocacy committee. 
Earning a spot on the VRHA Board is one of many accomplishments that Chitwood has obtained. As a Public Health major, he has served as the co-leader of the Students Interested in Health Careers club and a Wellness Peer Educator. He is also a service leadership fellow volunteering as a scribe with the local Bradley Free Clinic. Chitwood has also recently been involved in several research assistantship positions. He is working with his professor, Dr. Kimberly Garza, on qualitative research and volunteering with Dr. Alexei Morozov in a neuroscience lab at the Fralin Biomedical Research Institute in Roanoke. This summer, he secured a research-oriented/public health practicum internship with the Director of Research in Neurosurgery at Carilion, Dr. Jordan Darden. 
Chitwood said, "I've accomplished a lot at Roanoke, and I am very grateful for my opportunities and those who helped me obtain them. I also credit my past at Carlisle as a student from kindergarten – graduation as an incredible education building my academic and professional skills into what they are now. Carlisle was the right setting and environment for me to personally grow the necessary skills to succeed in the classroom while being encouraged to reach for every intriguing opportunity out of the classroom as well."
Chitwood plans to attend medical school after taking a few gap years to work in the medical field or obtain a biomedical research-oriented Ph.D. He plans to apply broadly to jobs and graduate programs in the fall to hopefully explore more of his clinical and biomedical research interests, particularly in cancer and neuroscience.
We are so proud of Andrew and wish him the best in his senior year! Our immense alumni network comprises many successful and accomplished graduates we are pleased to call our own!