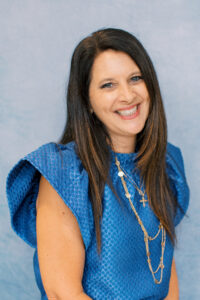 A Message from the Interim Head of School 
I am truly honored to serve as the Head of school for the 2023-2024 academic year.  It is a privilege for me to work alongside our dedicated administration team as we prepare for an exciting school year for both our new and returning students.  We have "dared to dream" as we have been diligently planning for a school year filled with growth, exploration, and endless possibilities.  Now, I invite each and every one of you to dream big with us, as we believe that when parents, teachers, and students work together, the sky is the limit. As we embark on this new school year, I want to assure you that our dedicated team is committed to providing a safe and nurturing environment for your children.  We have implemented comprehensive health and safety protocols to ensure the well-being of our students, staff, and families. I am filled with anticipation for the incredible journey that awaits us.  Together, let us create a vibrant and inspiring learning community where all students can thrive and reach their full potential. I am grateful for your continued support and partnership, and I look forward to a successful and rewarding school year ahead. 
---
From pre-kindergarten through high school, the Carlisle student is guided, encouraged, and challenged by talented, dedicated faculty who promote character development, intellectual growth, and character development. The staff is committed to knowing and developing the whole child and recognizes that the most valuable education is one that brings out the best in students, not just academically but ethically as well. Carlisle teaches the importance of social responsibility and the value of service. Education is student-centered and extends beyond the classroom.
Choosing the right school for your child is one of the most important decisions that you will ever make. Carlisle School welcomes the opportunity to meet your child's educational needs. It offers the following:
outstanding teachers who facilitate learning
well-developed academic offerings
a phenomenal fine arts program
strong youth mentoring program
small class sizes
service learning opportunities
collaborative family and community partnerships.
---
Please explore the information found on our website and feel free to contact me should you have additional questions.
Dream big, work hard, stay focused, and surround yourself with good people – Unknown
Neal Meyer
Interim Head of School
---
About Mrs. Meyer
Mrs. Meyer graduated from Lenoir Rhyne University with a Bachelor of Arts in Psychology.  Immediately upon graduation, she began graduate-level coursework at Averett University and met the necessary requirements for certification in elementary education. While attending Averett University, she trained under Dr. Bethany Tucker, developer of Tucker Signing Strategies for Reading. Mrs. Meyer was hired by Dr. Tucker to lead and teach the strategies to other aspiring educators at Averett University and students in the Danville Public Schools. Mrs. Meyer began her 30 years in education at Danville Public Schools in 1994. She joined Carlisle School in 2003 as a preschool teacher. In 2008, she transitioned into the position of Lower School Director, giving her the opportunity to fulfill her dream of leading a team of the most dedicated and skillful educators in the region. The extraordinary children, parents, and faculty that comprise the Carlisle community are a privilege for her to serve. They are inquisitive, compassionate, and resourceful, and they provide Mrs. Meyer with learning opportunities of her own each and every day.
News from the Head of School